Asia Young Designer Awards 2019
Nippon Paint 'FORWARD- a Sustainable Future' Design Competition Adjudication and Result Announcement
Sponsored by Nippon Paint, the Asia Young Designer Awards (AYDA) 2019 (Hong Kong region) was successfully launched together with a special lecture 'IT'S ALL ABOUT PAINTS' in Oct 2019. It was the first-ever AYDA Architecture discipline design competition for the Hong Kong region, with an aim to nurture design talent of students.
The briefing session and lecture attracted over 60 students' attendance. Under the theme 'FORWARD- a Sustainable Future', students reflected on the urban conditions in Hong Kong and created design proposals to enter the Hong Kong region competition. A total of 28 submissions were received.
Above: Competition posters
Mr Franklin Yu (HKIA Vice President, Director of the Green Building Council and Director of Singular Studio Ltd.), Ms Vivien Mak (Director of P&T Architects & Engineers), Mr Alvin Kung (HKIA Young Architects Award 2018 and Chief Architect of Ronald Lu & Partners) and Head of Architecture Department Prof Paul Chu were invited to serve as jurors for the competition. The jury members met and reviewed the 28 submissions in the presence of Ms Frances Wong (Assistant Manager, Marketing Division of Nippon Paint) and Ms Kirsty Mou (Business Development representative of Nippon Paint) in Jan 2020.
Above left: Jurors (from Left to right): Ms Vivien Mak, Mr Franklin Yu, Prof Paul Chu and Mr Alvin Kung
Above right: Jury process taken place in Jan 2020.
After extensive discussion, the jurors decided to award Gold, Silver, Bronze, Best Colour Choice Award and Best Green Innovation Award to the five projects below. A big congratulation to the winners! The prize presentation ceremony will be held later this year.
The Gold Award design project will further enter the International AYDA (Architecture discipline) competition in Vietnam this year. The overall champion would be sponsored by Nippon Paint to join an international design workshop in Harvard University. Once again, we are very grateful for Nippon Paint- for both the initiatives in recognizing the young talents and the generosity in donating the scholarship prizes.
Gold Award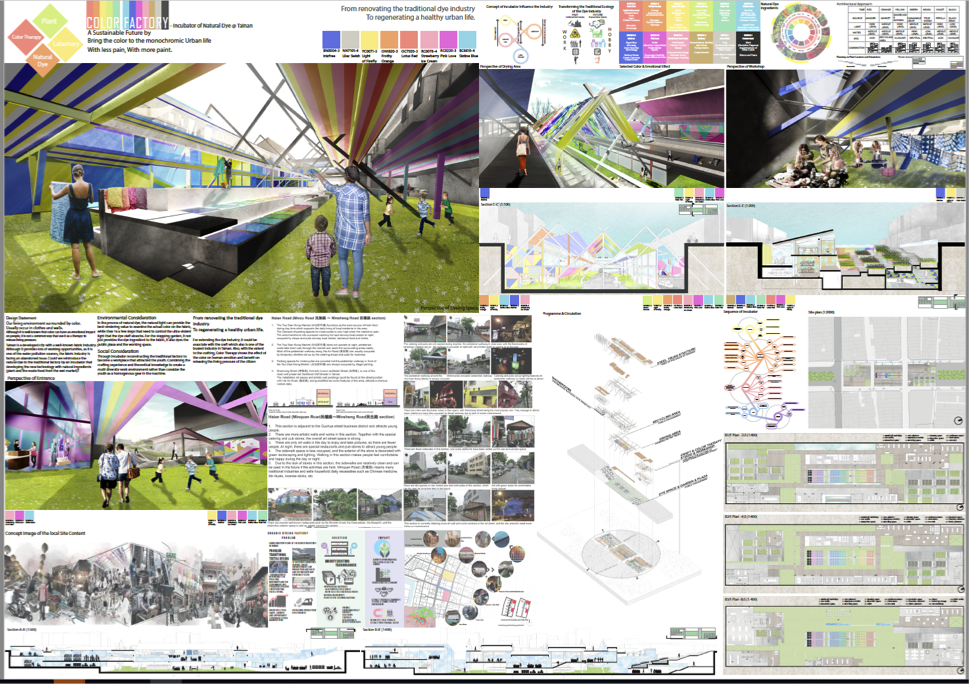 Tai Chun Ho, Edward (M.Arch Year 2)
Silver Award
Bronze Award
Yu Ka Wai & TIN Chun Kit
(B.Sc (Hons) in Architecture Year 3 & 4)
Yu Tsz Lok, Mike & HEUNG Chun Kit, Fabio
(M.Arch Year 2)
Best Colour Choice Award
Best Green Innovation
Sun Yuet & Ho Shing Him
(B.Sc (Hons) in Architecture Year 3)
Mak Tsz Ching & Yeung Ka Ying
(B.Sc (Hons) in Architecture Year 4)