Ribbon-cutting Ceremony for Exhibition of News Photo and Seminar by Pulitzer Prize Finalist Mr. Ringo Chiu
Monday 21 October 2019
A ribbon-cutting ceremony for the opening of the Exhibition of News Photo and Seminar by Ringo Chiu was held at 11:00 a.m. today at Chu Hai College of Higher Education on the ground floor lobby of its Jockey Club Academic Tower.
Officiating guests included Mr. Ringo Chiu, Chairlady of CHCHE Alumni Association Ms. Sally AU Kam Yiu, Chairlady of Journalism Education Foundation Ms. May CHAN Suk-Mei and President of Chu Hai College of Higher Education Professor LEE Chack-Fan.
In his welcoming speech, Prof. C.F. Lee remarked that the whole College was very excited about Mr. Chiu's achievement. He said to Mr. Chiu, "Chu Hai College is proud of you!" Mr. Ringo Chiu also gave a short speech. He thanked his alma mater Chu Hai College for educating and nurturing him. He further expressed, "No matter where Hong Kong people go, they can do it!"
Mr. Ringo Chiu graduated from Chu Hai College with a B.A. degree in Journalism and Mass Communication in the 1990s. He then worked for a few newspapers and won the Best News Photograph Award in 1992, 1993 and 1994. In 1995, Mr. Chiu went to study at the California State University of Northridge, where he obtained his second B.A. degree in photojournalism. Currently, Chiu is the best ethnic Chinese photographer among the mainstream media of USA. His photographic works have won wide acclaim in the photojournalism industry and got published around the world. He is nominated finalist for Breaking News Photography of the 2019 Pulitzer Prize.
The Exhibition, held at the Chu Hai College Tuen Mun campus, will last from Monday 21 October to Friday 25 October, with exhibition hours from 9:30 a.m. to 5:30 p.m. The seminar by Mr. Chiu takes place today at 2:00 p.m., also at the campus.
For media enquiries, please contact Ms Karen Li at Chu Hai College Communications and PR Office at 2972-7415 / Email karenli@chuhai.edu.hk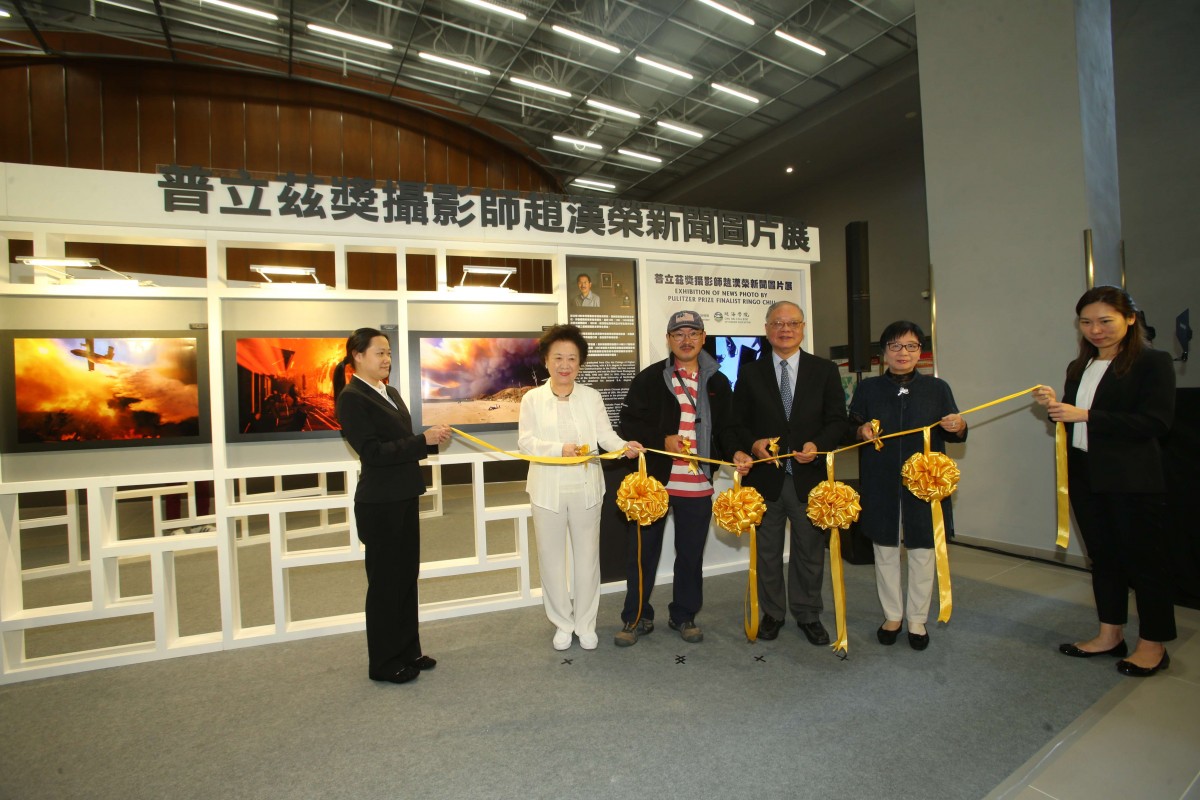 The ribbon-cutting ceremony for the opening of the Exhibition of News Photo and Seminar by Ringo Chiu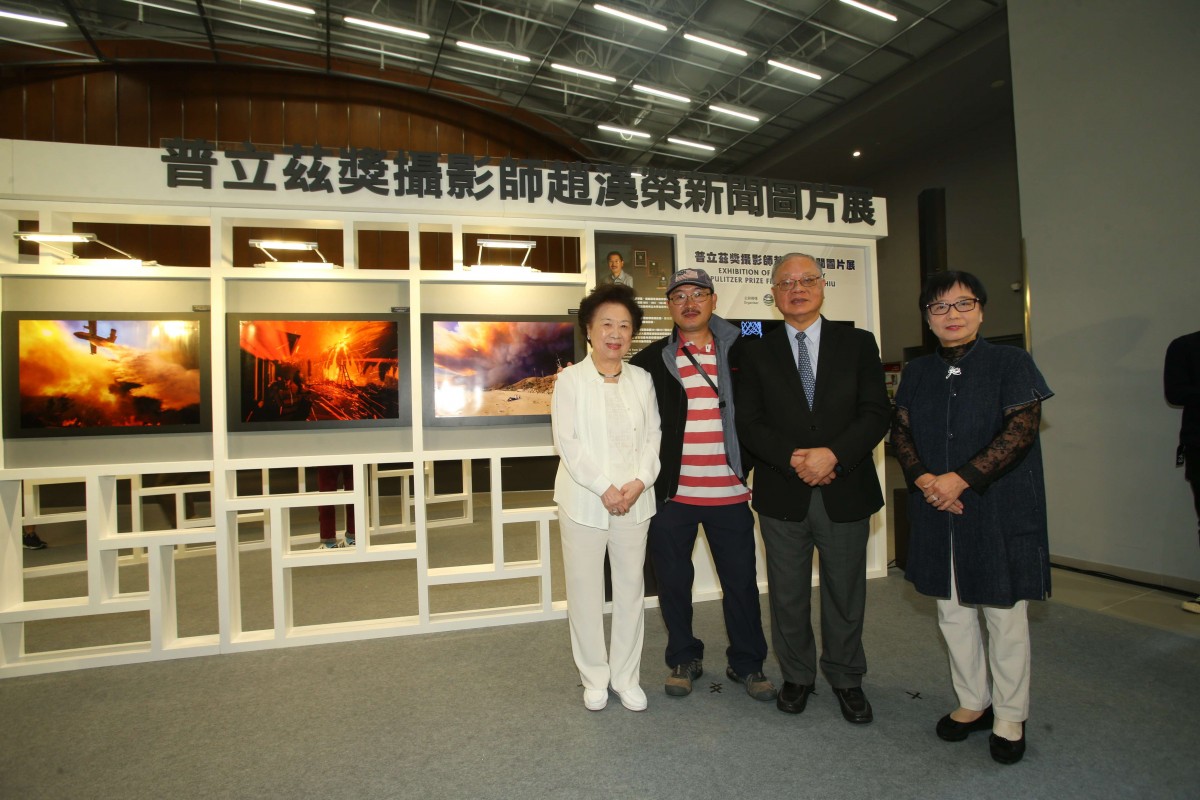 The Officiating guests (from left to right): Ms Sally AU Kam Yiu, Mr. Ringo Chiu, Professor LEE Chack-Fan, and Ms May CHAN Suk-Mei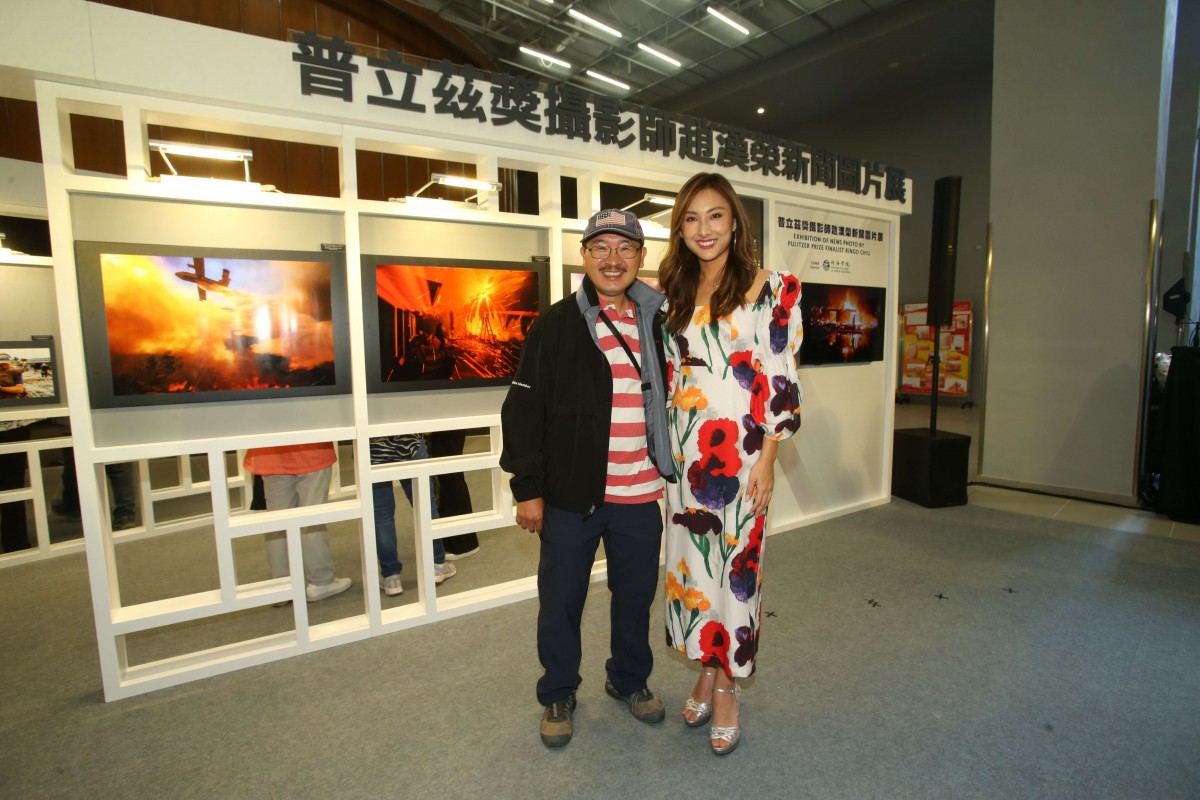 Ringo with Ms Kelly Chan, emcee of the Ceremony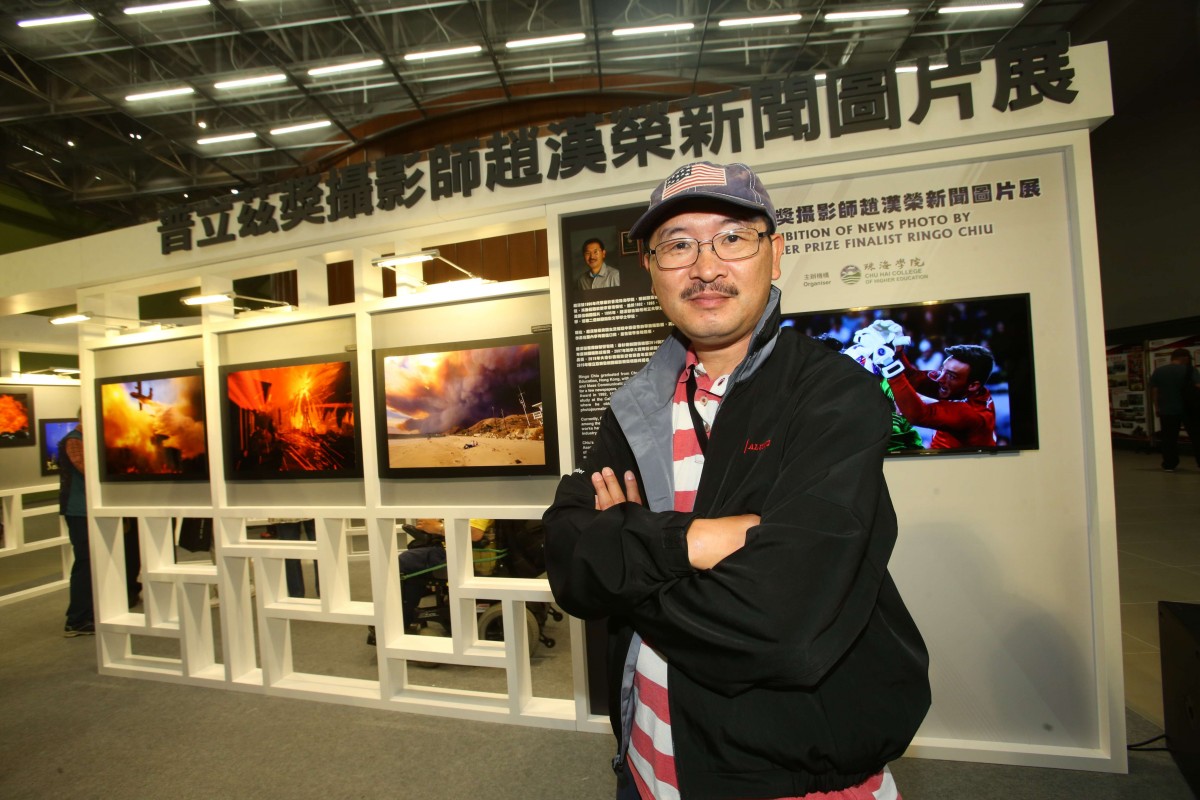 Ringo Chiu with his winning photos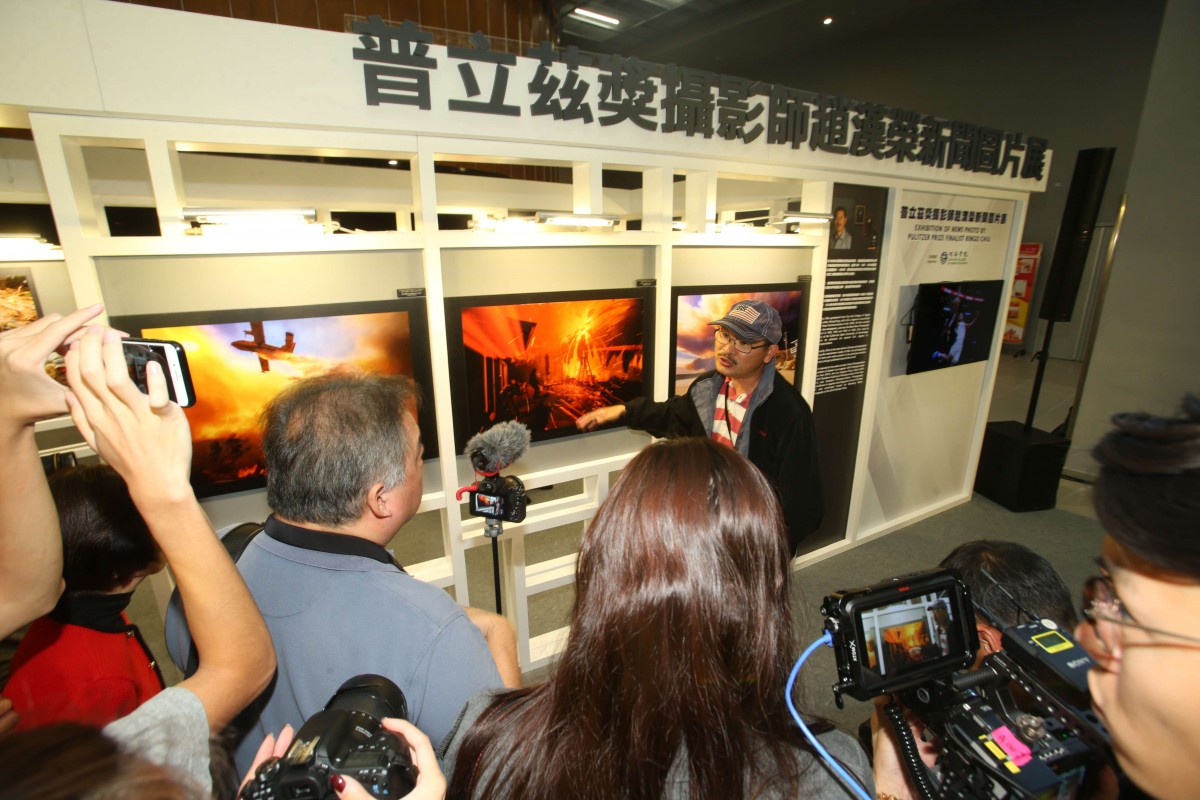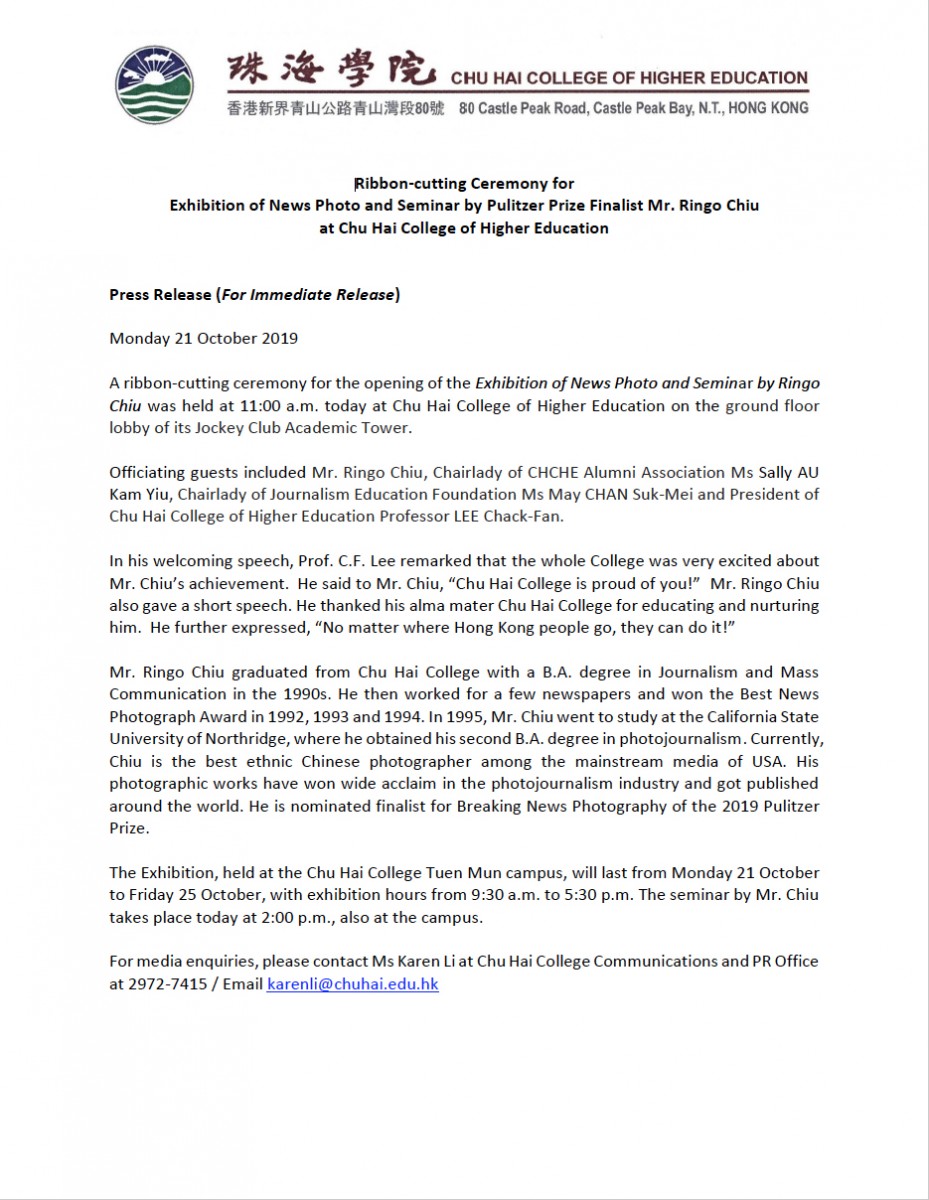 Video:
YouTube (Video duration: 1 hour 59 mins 49 sec)- 普立茲獎攝影師 - 趙漢榮講座「從事新聞攝影三十載 放洋追夢 由零開始」
Media:
Chinese Daily 華人今日網 - 在野火火場出生入死 香港攝影記者入圍普立茲攝影獎
HK Economic Journal 信報 - 云爾錄 :入圍普立茲獎攝記讚行家勇敢
HK Economic Times 經濟日報 - 名華裔攝影師 趙漢榮圖片展
Ming Pao 明報 - 曾入圍普立茲獎攝影師:佩服港攝記冒生命危險 在警方示威者間工作
Mingshengbao 明聲報 - 曾入围普立兹奖摄影师:佩服港摄记冒生命危险 在警方示威者间工作 (图)
News For Hong Kong - 曾入圍普立茲獎攝影師:佩服港攝記冒生命危險 在警方示威者間工作
Orange News 橙新聞 - 珠海學院舉辦趙漢榮新聞圖片展 展出獲普立茲獎最終提名山火照
Kiddies' Club 親子部落 - 趙漢榮圖片展
Photonews.hk (Video duration: 18 mins 2 sec)- 攝影記者Ringo Chiu獨闖火海拍攝!獲普立茲獎Finalist殊榮的作品怎樣拍?