JCM Students Win Commendation Award in TVB Documentary Competition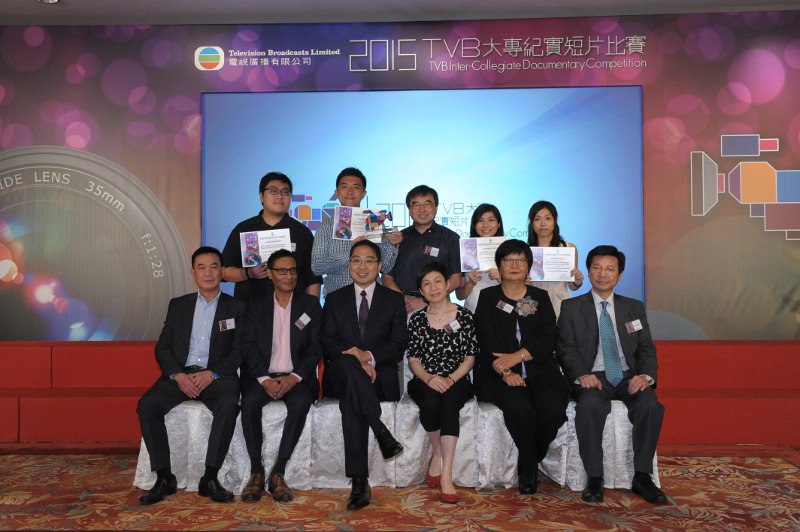 A team of seven students from the Department of Journalism and Communication won the Commendation Award in the 2015 TVB Inter-Collegiate Documentary Competition. Our students competed with other contestants from seven higher education institutions in Hong Kong, including BU, HKU, CUHK, City U and HSC. The Prize Presentation Ceremony was held on12th August 2015.
Our team produced a 9-minute documentary after six-month of hard work, entitled <em>Hide or Seek</em>. It is about those who separated from parents in their early childhood how to build their own identity and see their family roles.
The competition was held for the second time and three awards were presented: a Grand Jury Prize and two Commendation Awards. Participants were required to produce a documentary of around 10 to 12 minutes on social issues in Hong Kong.
Crew roles:
Director: Jacky Cheung Hoi Kit, Oscar Chen Man Yung
Screenplay: Wincy Hon Wing Hei, Oscar Chen Man Yung
Camera: Joseph Chung Nai Him, Amy Liu Lok Yan
Editing: Joseph Chung Nai Him, Jacky Cheung Hoi Kit
Sound: Gipsy Wong Lai Ying, Amy Liu Lok Yan
Music: Ben Wong Kai Fung, Joseph Chung Nai Him
Post-Production: Wincy Hon Wing Hei, Gipsy Wong Lai Ying
Budget planner: Ben Wong Kai Fung, Jacky Cheung Hoi Kit
Watch the video: