JCM Staff Receive over HK $1.7m Grants from QESS Scheme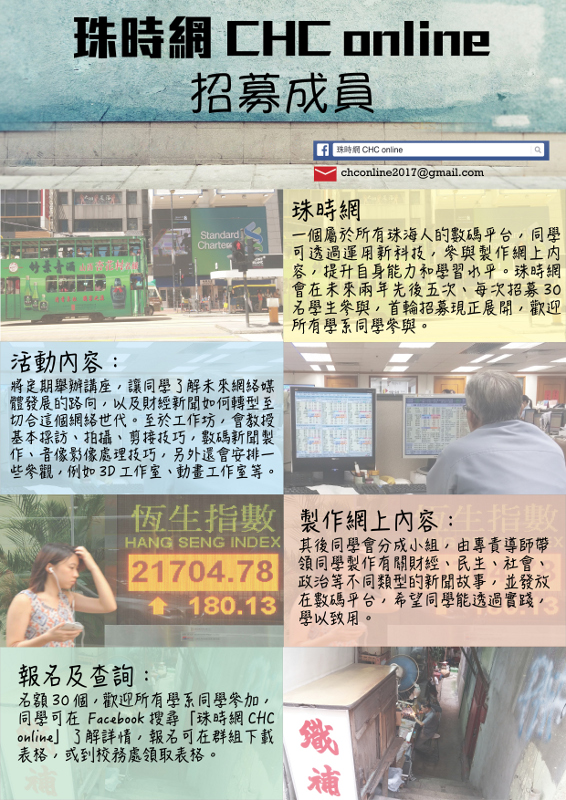 Four teaching staff from the Department of Journalism and Communication: Assistant Professor, Dr. Tracy Lee, Senior Lecturer Li Siu-sun, Lecturer Lin Ching-kit and Lecturer Carol Yiu, successfully passed their proposal, titled: Setting up a Digital Teaching and Learning Enhancement Platform, submitted to the Quality Enhancement Support Scheme under the Self-financing Post-secondary Education Fund. They received a grant of over HK$ 1.7 million.
This two-year project, started from 1 September 2015 to 31 August 2017, allows them to set up a web-based platform, namely: CHC online, for enhancing cross-college teaching and learning in the area of digital reporting, focusing particularly on financial news.
The aim of the project is to enable and empower students to a new level of learning by engaging them in digital content production through the use of emerging technologies. The project also enables our staff members to upgrade and deepen their acquaintance with and indeed in-depth knowledge of online teaching and learning.
Workshops and seminars will be organized for staff members and students to ensure the success of facilitating the project.
The team has also successfully invited Senior Lecturer, Leung Wai-man, in assisting with organizing seminars and guiding our students in news production.