Five Students from the Department of Finance Take Up the 2018/19 CFA Institute Research Challenge
A team from the Chu Hai College of Higher Education is now competing in the prestigious CFA Institute Research Challenge Hong Kong Local Final 2018-19, hosted by The Hong Kong Society of Financial Analysts.
The team comprises Qin Shiyang, Chen Ruoshi, Chang Danni, Deng Jingyan and Cheung Kin Hin from the Faculty of Business' Department of Finance. Further the team is advised by an external adviser (Mr. Jason Lai, Senior Analyst, Heitman) and Chu Hai faculty (Dr. Wilson Wong, Acting Head, Department of Finance).
The opening ceremony for the Research Challenge was held at Bloomberg's office in Cheung Kong Center in Central on 31 October, 2018. The principal sponsor of the Challenge is the Hong Kong Exchanges and Clearing Limited while Bloomberg is the supporting sponsor. The presence of these eminent sponsors underscores the prestige of the Challenge.
This Challenge comprises the following components:
Analysis of a Public Company
Mentoring by a Professional Research Analyst
Writing an Equity Research Report
Presentation of Research to a High-Profile Panel of Experts
The five teams with the highest written report scores would be presenting their research results and recommendations to a high-profile panel of judges at the Report Presentation and Award Ceremony on Saturday, 23rd February 2019. Moreover, all participants are expected to abide by the CFA Institute's Code of Ethics and Standards of Professional Conduct.
The winning team at the Local Final would advance to the Regional Final and compete with victorious teams from other geographical regions for the opportunity to contest in the Global Challenge for the final championship. The Global Challenge comprises winners of the regional finals held in Asia Pacific, Europe and North America. Each Research Challenge season involves over 150 CFA member societies, 3,500 member volunteers, and more than 5,500 students from over 1,100 universities worldwide (including leading business schools that are ranked in the Financial Times).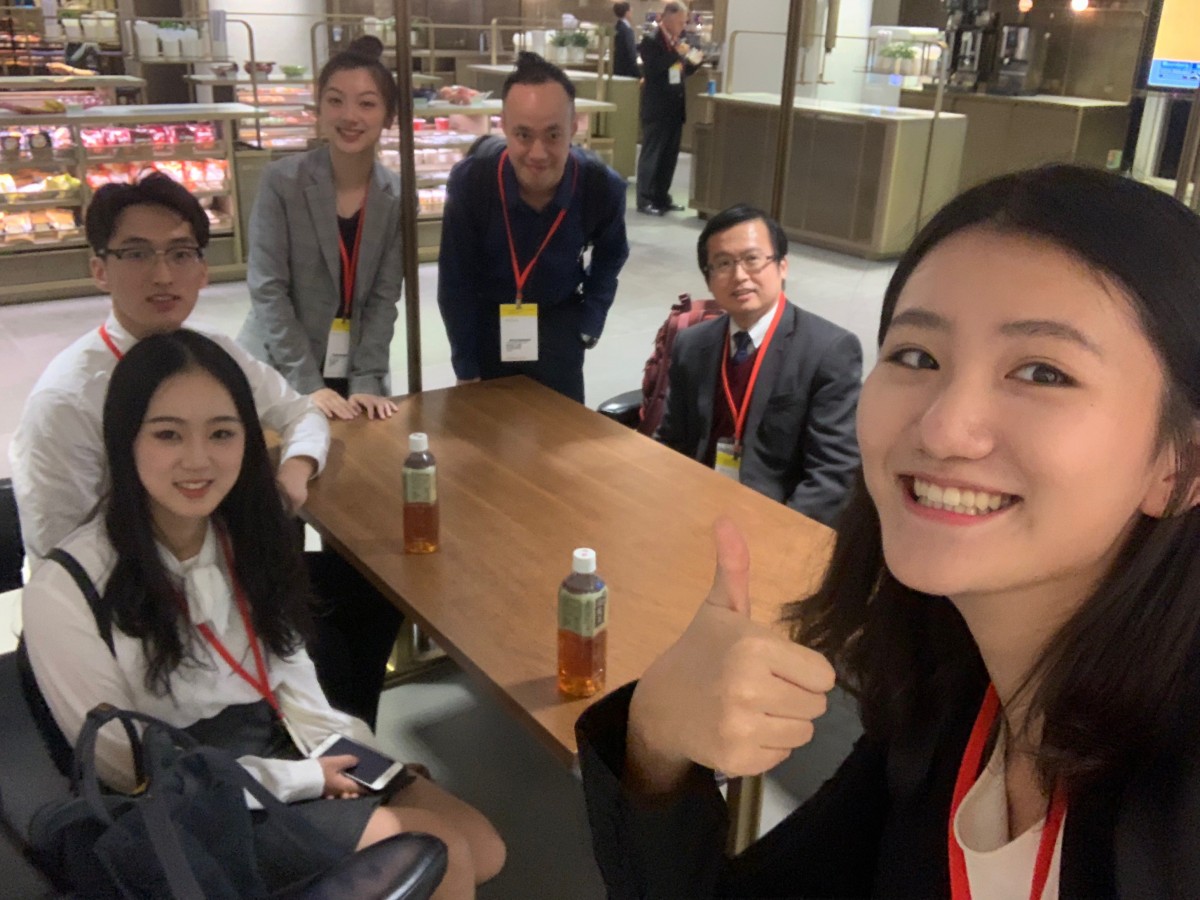 Team with Dr. Wilson Wong, Acting Head of the Department of Finance (2nd from the right)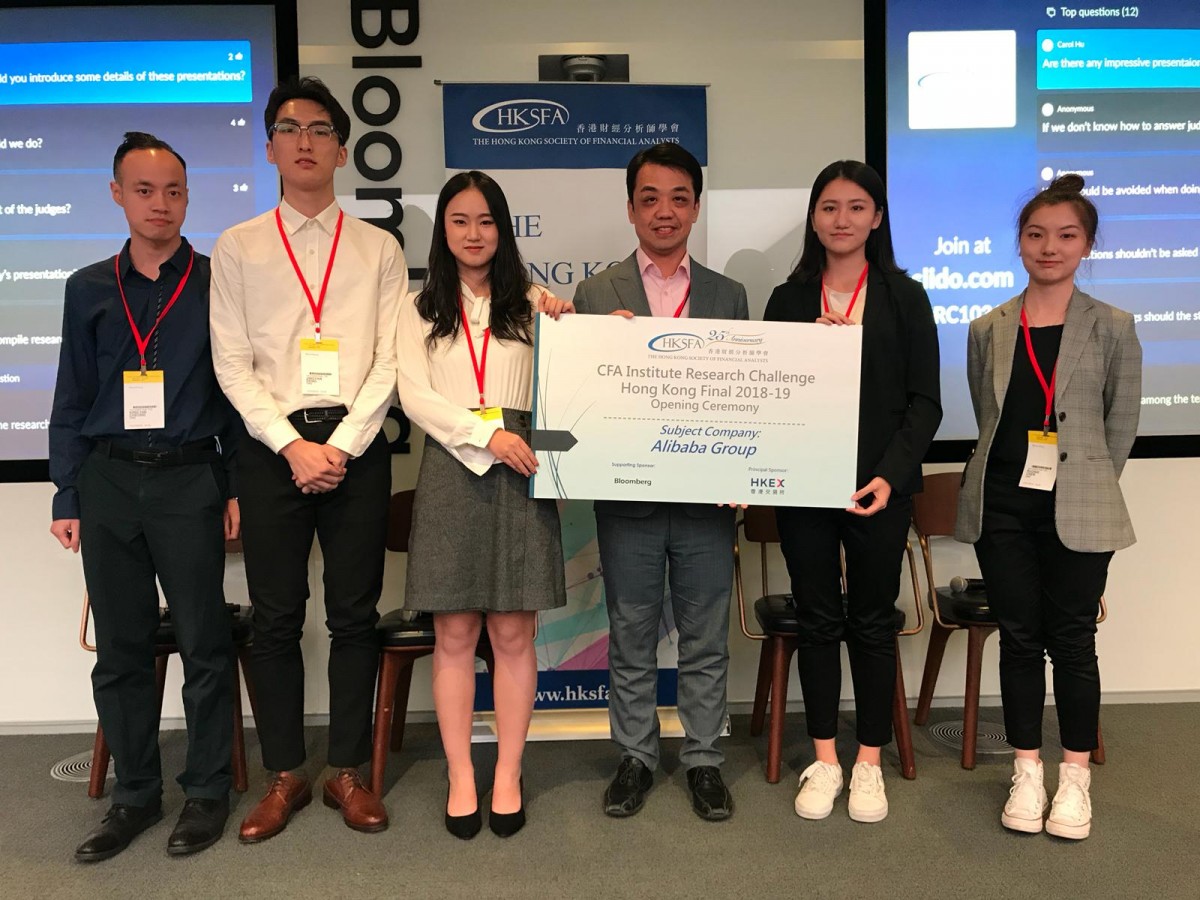 Team with Mr. Charles Chui, Director, The Hong Kong Society of Financial Analysts (Middle)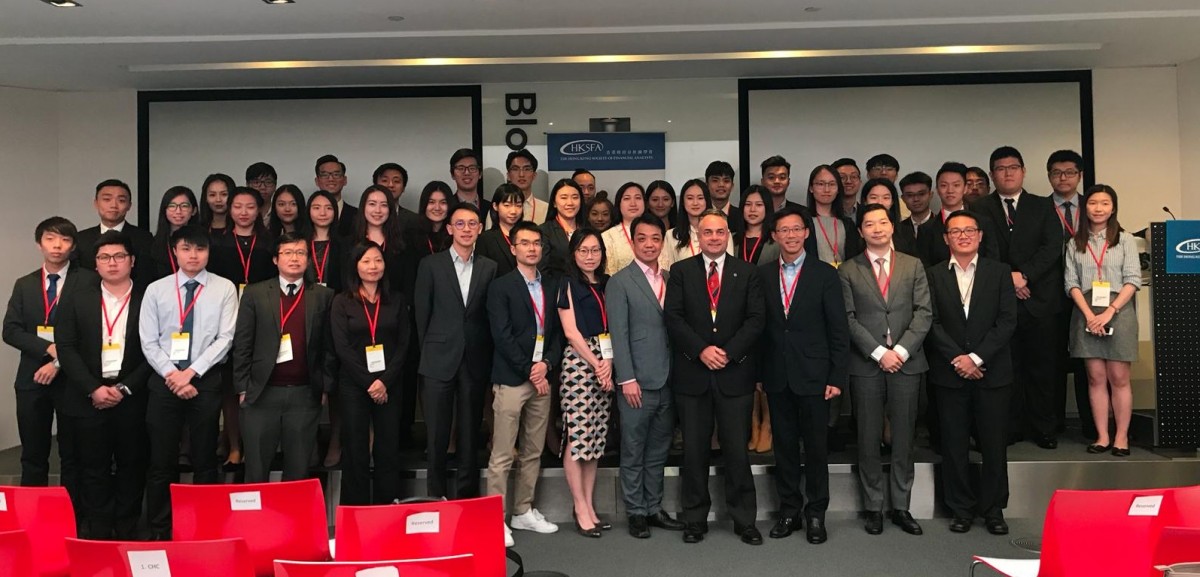 A group photo with the Mentors and participants from other Universities