CHCHE Main Campus and Jockey Club Academic Tower Opening Ceremony
The Chu Hai College of Higher Education (CHCHE) Main Campus and Jockey Club Academic Tower Opening Ceremony took place today at the College's new campus in Tuen Mun.
Officiating guests included the Hon Mrs. Carrie LAM CHENG Yuet-ngor, GBM, GBS, Chief Executive of the Hong Kong Special Administrative Region, and Dr. Anthony W K CHOW, SBS, JP, Chairman of The Hong Kong Jockey Club.
Accompanying guests on stage included Dr. KONG Ho Pak, Chairman of the Board of Governors, CHCHE, Dr. LEE Cho Jat, GBS, SBS, Vice-Chairman of the Board of Governors, CHCHE, Mr LIU Xiaoyong, Governor of Hong Kong Chu Hai Education Foundation, Dr. Charles YEUNG, Benefactor, CHCHE, Prof TSUI Lap-chee, Chairman of College Council, CHCHE, Academician TANG Man Chung, Outstanding Alumnus, Chu Hai College of Higher Education, Prof. LEE Chack Fan, President, CHCHE, and Ms. AU Kam Yiu, Chairlady of Chu Hai College's Alumni Association.
Mrs. Carrie Lam said that the Government has always paid close attention to the development of tertiary education and implemented various measures to meet the future development needs of self-financing post-secondary institutions. In 2010, the government granted land at nominal premium to Chu Hai College and a $600 million interest-free loan to build a new campus and student dormitory in order to provide a better learning environment.
Chairman of The Hong Kong Jockey Club Dr Chow said that in addition to the new main campus providing a better teaching and learning environment and facilities, the College's first student hostel would allow students from different cultural backgrounds to live together and learn from each other, and thereby contribute to their holistic development. "Young people are our future, so the Club is dedicated to supporting youth development and education. The Club will continue to support the development of tertiary education in Hong Kong, in order to facilitate the development of Hong Kong into an Asian education hub," Dr Chow said.
In his welcoming speech, CHCHE Board of Governors Chairman Dr. KONG assured the guests that having been making contributions to the community by nurturing well-equipped, responsible and knowledgeable citizens for over 70 years, the College would continue to provide quality education for the people of Hong Kong, especially its youngsters. On behalf of the College, Dr. KONG thanked the Hong Kong Government for its keen support at various levels throughout the years and for giving the College a beautiful site in Tuen Mun. He also expressed gratitude to the Hong Kong Jockey Club for its generous donation that partially funded the building cost of the campus and helped tremendously in enhancing the quality of teaching and learning at Chu Hai College.
Located at Castle Peak Bay, Tuen Mun, the new campus provides a gross floor area of 32,000 sq.m. Its Jockey Club Academic Towerhouses not only fully-equipped classrooms and auditoria but also state-of-the-art specialistic facilities such as cross-media visual production studio, architecture studios, civil engineering laboratories, language laboratory and computer centre, as well as providing a full range of supporting facilities such as library, indoor gymnasium, cafeteria, student canteen and student dormitory (for images and textual descriptions of these facilities, please visit the College website on https://www.chuhai.edu.hk/facilities-0). Most of these new facilities were unavailable in the previous campus of the College in Tsuen Wan, and now at the new campus students of Chu Hai College are able to pursue their study with much more enriched learning experiences. For instance, for the first time its students can enjoy having multi-purpose sports activities in a fully equipped gymnasium, and students residing in the dormitory have their travelling time greatly reduced, which helps to enable them to focus on their studies. Furthermore, the Cross-Media Theater enables Journalism and Communication students to use drones and network platforms to explore and enrich media and communication with new technologies, thus opening up research topics in uncharted domains on issues concerning privacy intrusion, psychological impact, legal and social acceptance.
Since its completion, the new campus has received a total of six architectural and construction awards: Hong Kong Institute of Architects (HKIA) Medal of the Year of HK 2016, Hong Kong Institute of Project Management (HKIPM) Project of the Year 2016, Royal Institution of Chartered Surveyors (RICS) Winner of the Construction Project Team of the Year 2017, HKIPM Winner of the Project Management Achievement Award (Construction/Engineering), HKIPM Winner of the Project Management Achievement Award (Community Service/Regional Development), and Hong Kong Institute of Construction Managers (HKICM) Merit in Excellent Construction Team Award 2018.
Chu Hai College was founded in 1947. In 2004, it was approved by the HKSAR Chief Executive in Council to award degrees and renamed as Chu Hai College of Higher Education. At present, the College has three faculties, namely, the Faculty of Arts and Social Sciences, the Faculty of Business, and the Faculty of Science and Engineering. Together, they offer 14 Bachelor's degree programmes covering literature, journalism, communication, business administration, finance, computer science, civil engineering and architecture, and three Master degree programmes covering Architecture, Applied Buddhist Studies and Chinese Studies.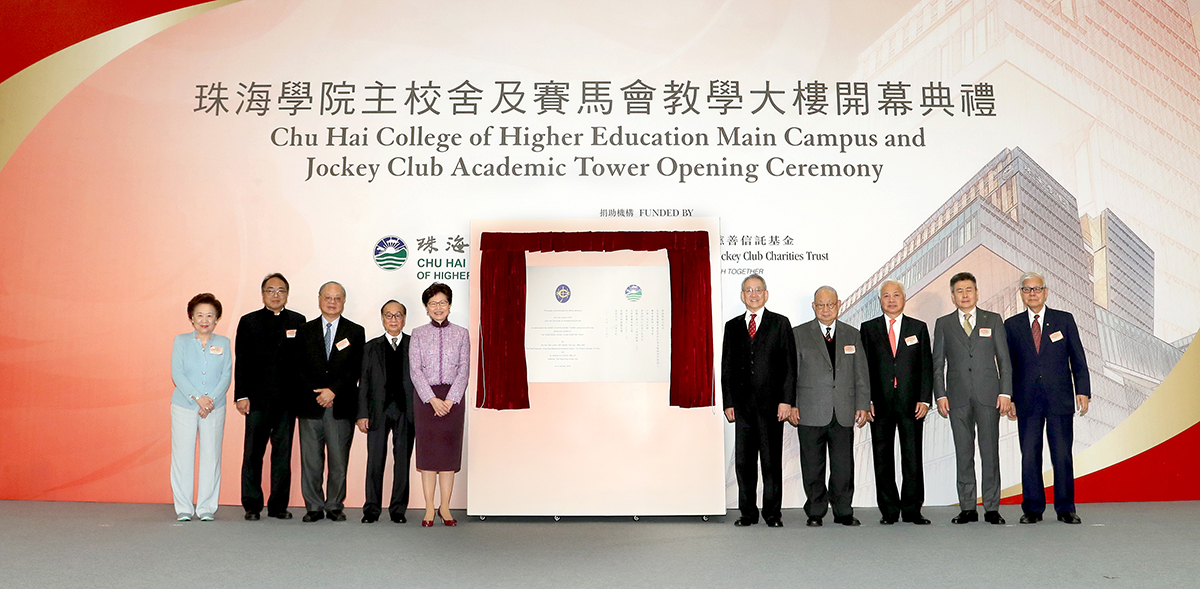 Local Newspaper and website reports are listed as below: