Application Procedures for DSE Applicants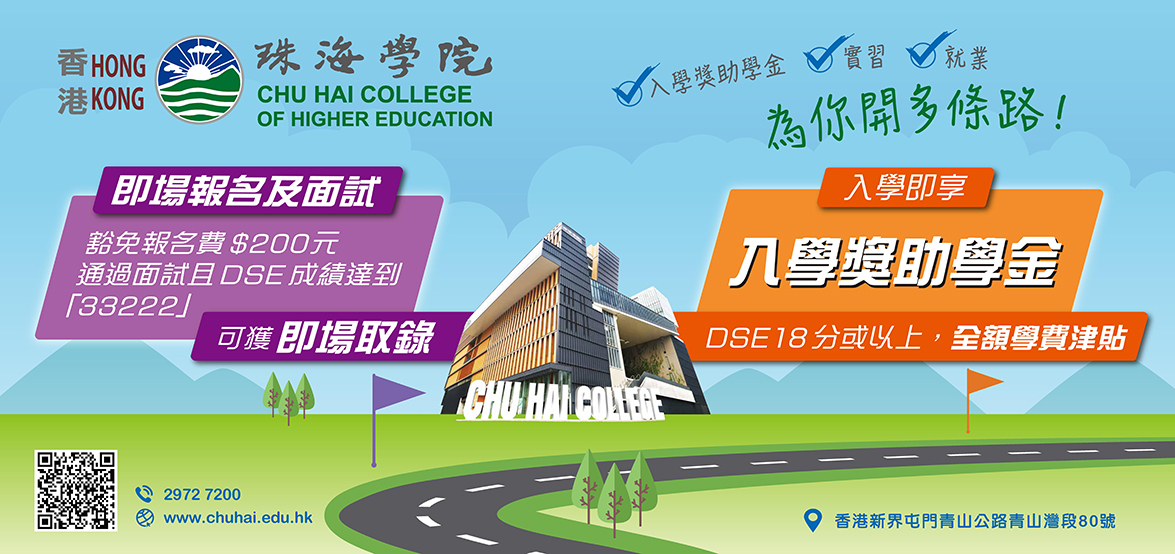 On behalf of the College, we sincerely invite the potential students and parents to visit our College or Admission Centres in North District and Yau Tsim Mong District for enquiry, enrolment and interview on 10 July 2019, the HKDSE Results Release Day. The HK$200 application fee will be waived for applicants who enrol on-site.
In addition, for students who has been granted a conditional offer to Chu Hai College of Higher Education commencing from the academic year 2019/20, please be reminded to claim a firm offer from us.
Detailed arrangements are as follows:
HKDSE Results Release Day (10 July 2019)
Time
Venue
9:00 – 17:30
Chu Hai College of Higher Education (W508)
(Address: Room W508, 5/F, West Wing, Chu Hai College of Higher Education, 80 Castle Peak Road, Castle Peak Bay, Tuen Mun N.T.)
9:00 – 16:00
North District Admission Centre: Fanling Kau Yan College
(Address: No.3 Yan Shing Lane, Fanling N.T.)
Yau Tsim Mong District: ELCHK Lutheran Secondary School
(Address: 52 Waterloo Road, Kowloon)
Entry requirements:
Level 3 or above in English Language and Chinese Language; AND level 2 or above in Mathematics, Liberal Studies, and one elective subject

Remarks:
Non-Chinese speaking students should obtain one of the following Chinese Language qualifications as equivalent to HKDSE Chinese Language: Attained or above in Applied Learning Chinese; or
Grade C or above in GCSE / IGCSE; or
Grade E or above in GCE A-Level
Documents for Admission (new applicants):

A recent photograph (Passport size);
Hong Kong Identity Card and its photocopy;
HKDSE and public examination results, and their photocopies;
School report, SLP and their photocopies

Documents for Admission (students with conditional offer):

Hong Kong Identity Card and its photocopy;
HKDSE and public examination results, and their photocopies;
The conditional offer letter from Chu Hai College

For enquiry:
Tel.: 2972 7200 / Email: admission@chuhai.edu.hk
Students will have the chance to be awarded a scholarship/subsidy upon admission if outstanding results in the 2019 HKDSE were attained.
HKDSE score
Tuition fee per year (first 2 years)
Admission Scholarship/Subsidy and Government Subsidy
Tuition fee to be paid per year
18 or above
HK$69,000
HK$69,00
HK$0
15-17
HK$61,300
HK$7,700
12-14
HK$51,300
HK$17,700
Remarks:
* Total HKDSE score of 4 core subjects and 1 best elective subject.
** The Admission Scholarship will be granted for the first two years. Students who have attained YGPA 3.0 or above in Year 2 or Year 3, their scholarship will automatically be renewed in the subsequent year.
***For more details about Admission Scholarships, please refer to our webpage: https://www.chuhai.edu.hk/admission-scholarships-and-bursaries-local-students-only
We wish you all the best on the HKDSE Results Release Day!
Admission Unit
July 8th, 2019